THAI STARLITE

Manufacturing Co., Ltd.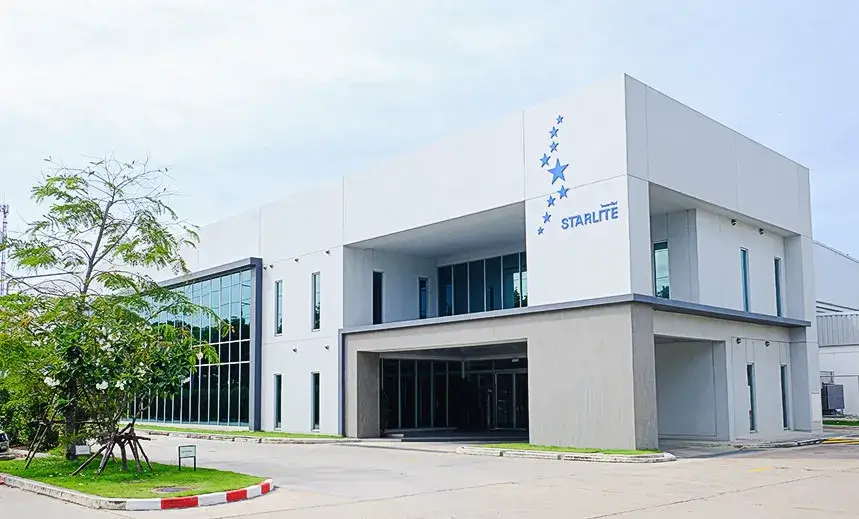 In 1988, Thai Starlite Manufacturing Co., Ltd. began its operations in Chachoengsao Prefecture, the Kingdom of Thailand. Over the past 30 years, we have produced productions of high precision and high quality, they have expanded globally mainly in Japan and China.
The Kingdom of Thailand early established stable transportation, production infrastructures. It is also an optimal base for logistics because of bilateral trade agreements and trade agreements with ASEAN, not only within Southeast Asia but also to all over Asia, Oceania and Europe. In addition, since we are located in a safe place that is not easily damaged by floods, we can build a stable supply chain over the long term.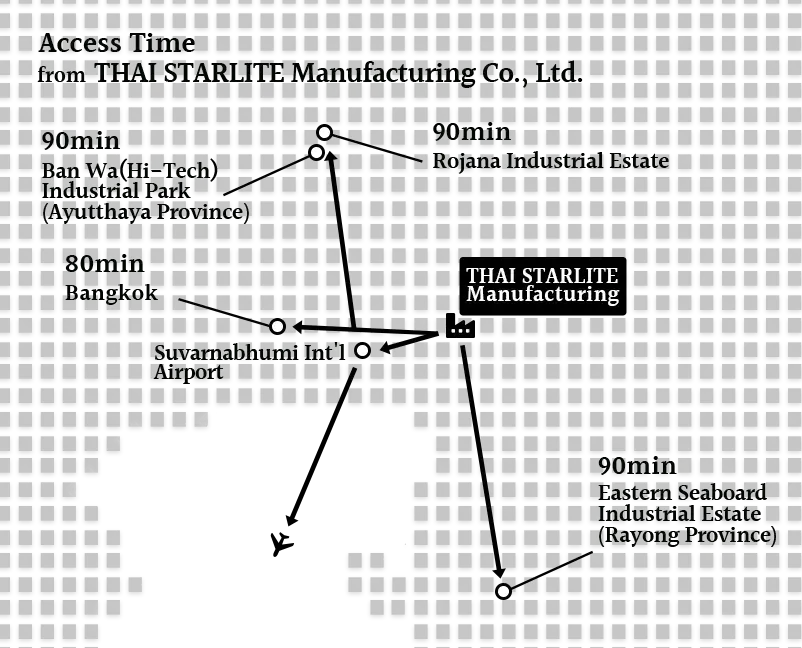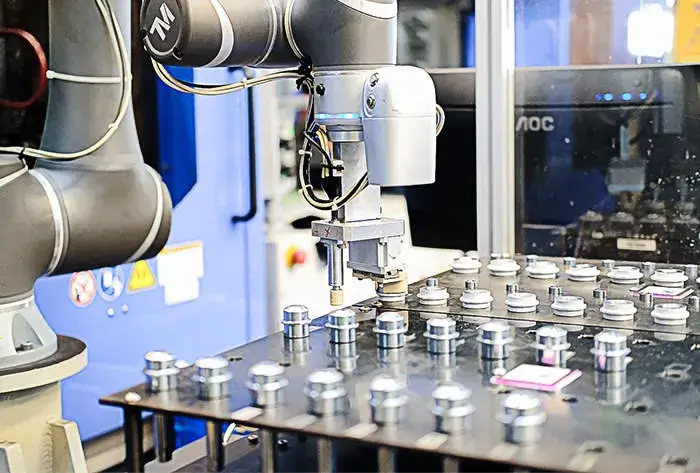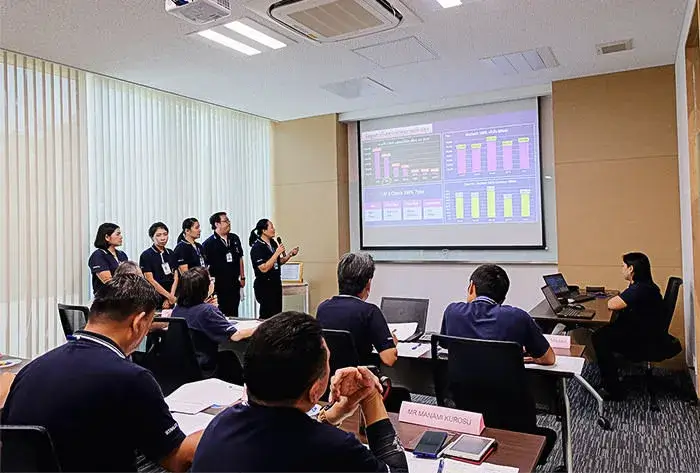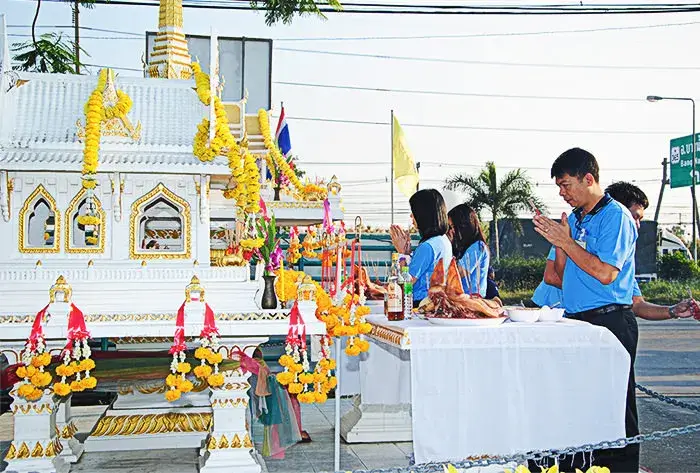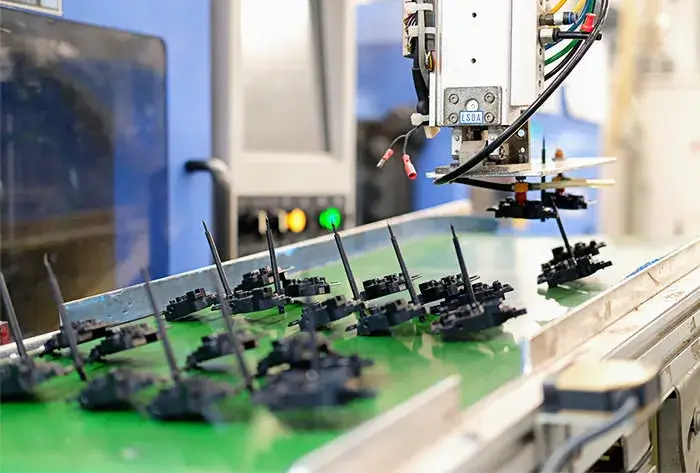 We specialized in producing products with high precision and high performance using super engineering plastics, such as optical frames for OA and engine mounts for automobiles. We have long challenged replacing metals with super engineering plastics, we also aggressively propose insert molding as a fusion with metals to our customers. Through technical backup of our group, we provide Japanese high quality and functionality.
super engineering plastics:high-performance thermoplastic resins that are particularly excellent in strength, heat resistance, and chemical resistance. it is mainly used as a substitute for metal.
Initiatives in Production
Thai Starlite Manufacturing's main products are manufactured by our professional engineers who have knowledge and technology levels. At the manufacturing sites, they have deepened our awareness, knowledge and technical level, and cultivated awareness of the problem and communication ability by small-group activities and improvement proposal activities. Because of their integrated support system within STARLITE Group from the functional design development stage, they can produce Japanese quality products. And it leads to productivity improvement and stable production.
Produce
Commitment to Quality
We have acquired ISO9001 and ISO14001 from an early stage, and have been building and operating a system to reduce environmental burden. At the same time, we have pursued the provision of consistent product-services and improvement of customer satisfaction through QMS. The operation of the APQP process minimizes the risks inherent in the production process, thereby improving and optimizing quality. In the pre-mass production stage, we thoroughly incorporate quality through initial flow control by the design department, while in the mass production stage, we create optimum quality in line with the site through automatic detection using automatic appearance inspection machines.
QMS:The mechanism that an organization needs to improve the quality of its products and services.
APQP:Regulations of the operation procedure of a new product development project, and is a guideline for the operation method of the entire new product development project, which is to develop a new product that meets the needs and expectations of customers, obtain customer approval, and shift to commercial production. Indicates.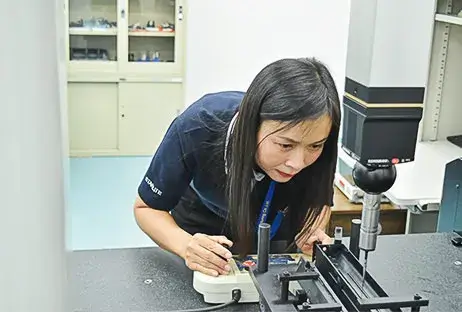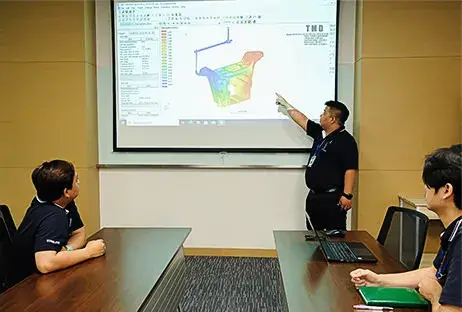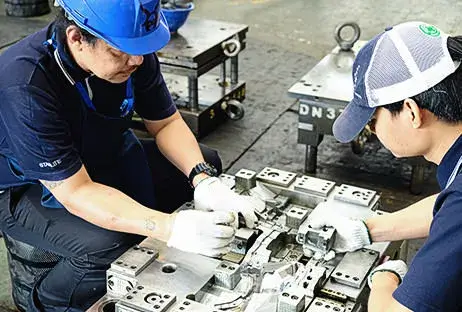 ---
Commitment to Technological Innovation
Our development system is realized by seamless cooperation of STARLITE Group among engineers. We have the ability to corporate globally as one group to perform production processes, such as full use of flow analysis and stress analysis through CAE analysis, 3D CAD/CAM, NC machine, machining centers and wire cutting.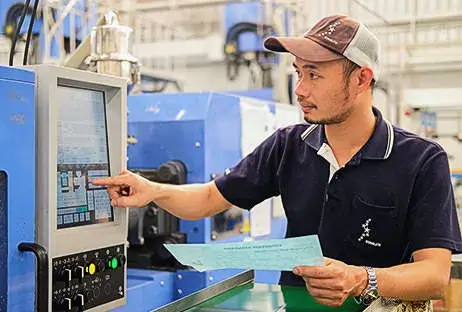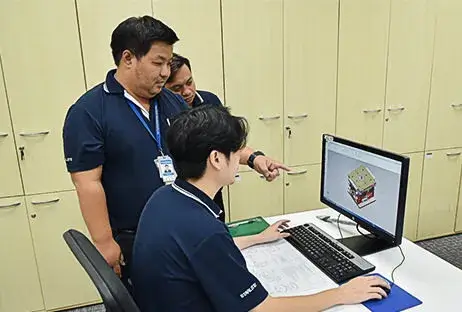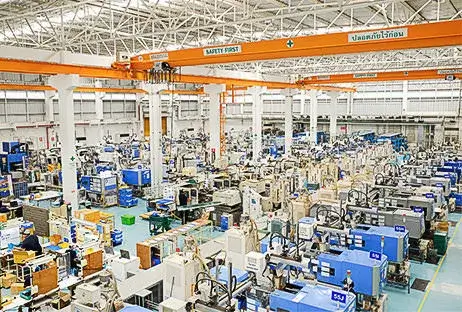 Our Messages
President

Tadahiro
Yokoyama

Thai Starlite Manufacturing Co., Ltd. has played a role as a manufacturing base in Southeast Asia for the Tribology and Mobility Solutions businesses. By challenging new materials such as high-performance engineering plastics and our unique production technology, we will continue to deliver functional products that lead society to the right direction.

Production Control
Section Manufacturing
Department

KHAWANKHAE

We deliver products on time by arranging raw materials, creating production plans, and managing progress based on customer production information. In order to facilitate production activities, I always try to communicate closely with the factory colleagues.We will collaborate with our colleagues to deliver high performance products that satisfy our customers.

Development
Department

BODINSUNTHON

Our own development leads to the development of the company. So far, I have learned the importance of supporting each other with my family and colleagues through welfare activities such as in-house training and parent-child activities as well as production activities. For Japan Quality functional products developed by our teamwork, please come to Thai Starlite Manufacturing.
Company Profile
Corporate Name

THAI STARLITE Manufacturing Co., Ltd.
Established

June 1988
President

Tadahiro Yokoyama
Number of Employees

420 (as of FY2020)
Business Area
Acquisition
Certification

ISO9001
ISO14001
IATF16949
Location

THAI STARLITE Manufacturing

14/1 Moo 5 Suwintawong Rd. (Meenburi-Chachoengsao),Tambol Wangtakien, Amphur Muang Chachoengsao 24000 Thailand MAP

TEL

+66-33-599-571

FAX

+66-33-599-583

Bangkok Office

406 Fl. 4, FICO PLACE BUILDING, 18/8 Sukhumvit 21 Rd.,Klongtoey Nua, Wattana, Bangkok 10110 Thailand MAP

TEL

+66-2-665-7235

FAX

+66-2-665-7237
Site Area

41,600㎡
Make a new co-creation in partnership with customers.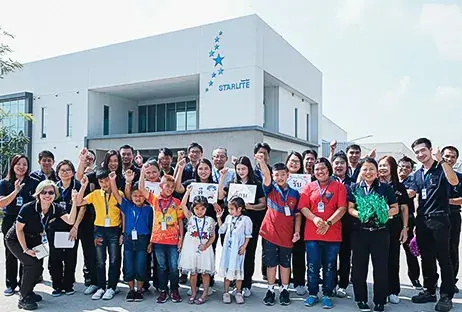 With your help, make society even better
We will strive to be in harmony with the local community and valued growth with our employees. Lead society to the right direction with functional products that take safety and the environment into consideration. Please feel free to contact us.